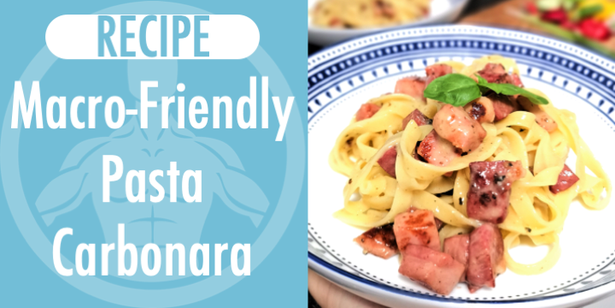 Pasta carbonara is one of those dishes that people trying to keep calories low don't get to eat all that frequently. That tends to be the case with dishes where some of the main ingredients are eggs cheese and pasta. I took that as a challenge to see if I could do something to make this classic dish a little more macro friendly.
Just to clarify, when I talk about "Carbonara", I'm not talking about a sauce made like a bechamel with cream and butter and ham. I'm talking about an authentic carbonara made with hard cheese (like pecorino), whole egg and a more substantial pork product (like pancetta). Unfortunately hard cheese and most cured pork is pretty high in calories.
So to resolve that I'm going to use a few simple ingredient swaps to get the result I want:
Sharp, low-fat cheddar-style cheese: most low-fat cheddars (30% less fat) taste of nothing however there is an Irish cheese called "Dubliner" which does a light version that is simply amazing. That cheddar-style sharpness is essential for the cheesiness of this dish. Eatlean Tasty and Supervalu Protein Cheese are up to 60% less fat and taste incredible too.
Parmesan: standard grated parmesan is an amazing ingredient because a little goes a long way and adds to the overall cheesiness of the dish (you can use pecorino if you'd like).
Smoked Gammon or Lean Bacon: Pancetta is very high in fat but lean cuts of bacon or gammon, free of visible fat, can be very lean and high in protein. Smoked gammon or bacon add an especially deep flavour to this dish.
Wholemeal Tagliatelle: I'm using regular old wholemeal wheat pasta for this recipe because in tagliatelle form, the gluten helps it keep its shape better. That said, feel free to use a legume pasta if you want even more protein and fibre.
As this dish doesn't have any vegetables, it's best served with a vegetable side dish or salad to make a more healthful, balanced meal.
A word of caution: read this recipe fully before attempting it because the step where you assemble the dish to make the sauce needs to be done quickly, otherwise you'll end up with scrambled egg on your pasta... which isn't what we're looking for here.
Macros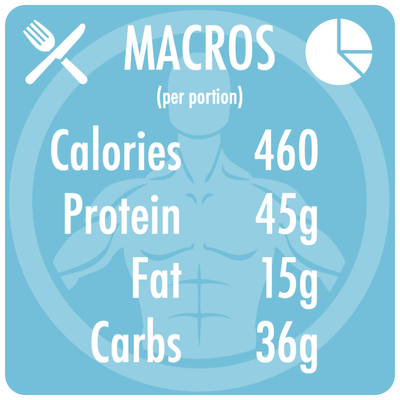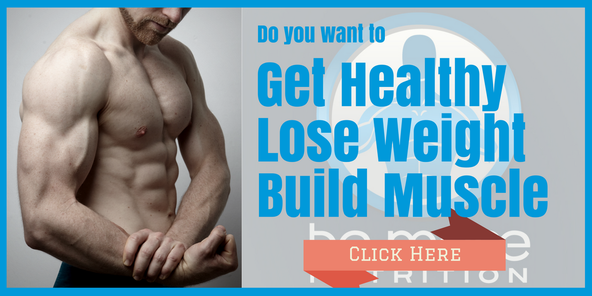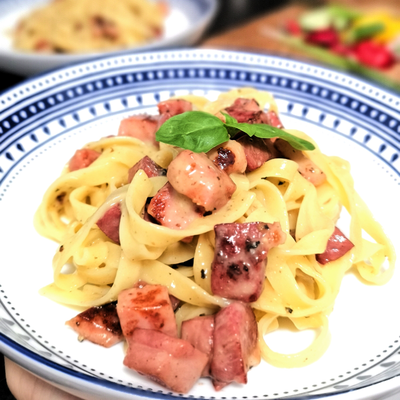 Ingredients (makes 1 portion)
Have you tried one of the recipes? 
Share and show the results
50g wholemeal tagliatelle (or spaghetti)
100g lean smoked gammon (trimmed of all visible fat)
30g grated Eatlean Tasty cheese (or alternative)
5g grated parmesan
1 large egg
Olive oil spray
Salt & black pepper
Recipe
Bring a pot of salted water to the boil and add the tagliatelle, cooking according to the package instructions (do not over cook this, it should be a little "al dente" as it will cook more with the sauce.

In the meantime, chop the gammon into small (1cm) cubes and fry in a frying pan with a little spray of olive oil, until it has browned a little and is cooked through.

In a cup or small bowl, beat the egg and add the grated cheeses and grind in A LOT (about 1 level tsp) of black pepper. Mix well.

When the pasta is cooked, remove the frying pan from the heat, add the pasta to the frying pan with 1-2 tbsp of the pasta cooking water and mix in with the cooked gammon.

Immediately add the egg & cheese mix and stir vigorously. The egg will cook in the residual heat of the pasta and frying pan. You need to mix it vigorously to ensure the egg doesn't scramble.

Once the sauce has thickened, plate it up immediately and garnish with a few leaves of fresh basil. Enjoy.
If you're having this with a salad or vegetable side dish it's best to prepare them in advance as you'll want to eat this pasta as soon as it's cooked.
---
Have you been working out? You're looking good!
If you liked the article why not share the love:
Loading Twitter messages...