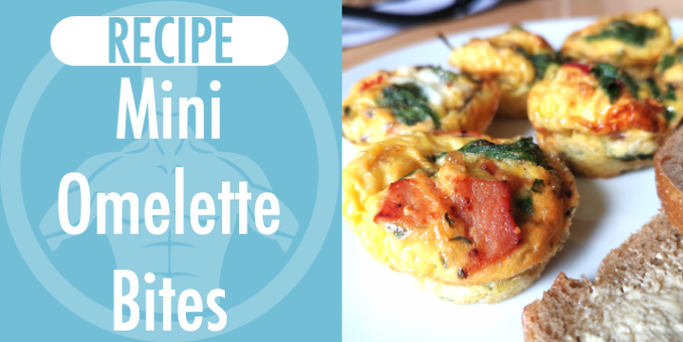 I love a cooked breakfast but I don't often have time in the mornings so when I do, I love making eggs. While scrambled eggs and omelettes are great, I love these mini omelette bites as nice finger food when cooking for a few people.
Whenever you make a vegetable omelette, it's really important to cook the veg before adding the eggs. The eggs don't take long to cook so if you don't cook the veg first, they'll be virtually raw when you eat them.
This is especially important for the spinach as it can add a lot of moisture to the eggs while cooking, meaning you'll end up with mushy egg... which nobody wants. I'll sometimes microwave a large handful of spinach before adding them to eggs, just to wilt them down and reduce the moisture content.
You don't need to add bacon to this dish but bacon lean medallions do add a lot of extra protein with very few calories. You can also skip the parmesan cheese if you don't have it, it just adds a nice punch of umami to the dish.
One big concern people have with eggs is the cholesterol content but as part of balanced diet, high in fibre and lower in overall saturated fat, eggs are a fine, nutrient dense food.
Macros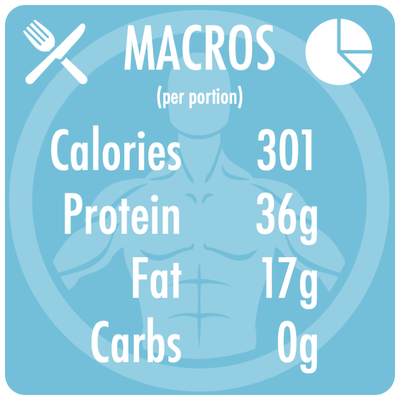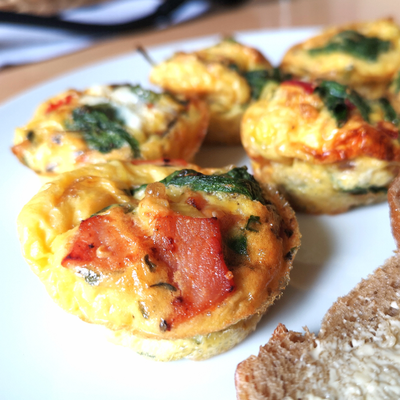 Ingredients (makes 2 portions)
Have you tried one of the recipes? 
Share and show the results
6 medium/large eggs
100g lean bacon medallions
2 scallions
1/2 red pepper
2 handfuls of spinach
2 tsp grated parmesan
2 tbsp milk (dairy or alternative)
1/2 tsp baking powder (optional)
Salt, pepper and mixed herbs
Olive oil spray
Utensils
Muffin tin (with 12 spaces)
Recipe
Preheat the oven to 190ºC and lightly grease the muffin tin with some spray oil.

In a bowl, beat the eggs together with the milk and baking powder and season to taste with the salt, pepper and mixed herbs. Set aside.

Finely chop the scallions and red peppers and add to a frying pan with a spray of olive oil and sautee over a medium heat.

Chop the bacon medallions into roughly 1cm squares.

Once the vegetables have softened a little (but not browned) add the bacon medallions and sautee until cooked through.
Add the spinach to the pan and place a lid on top until the spinach wilts (about 1 minute). Remove from the heat.
Distribute the vegetable and bacon mix amongst  the 12 spaces in the muffin tin.
Pour the egg mixture evenly over the vegetable mix in the muffin tin.
Place in the oven and bake for 12-15 minutes (or until set).
Allow the mini omelette bites to cool a moment (they will shrink a little) before removing them to a plate.
Serve immediately.
Half of this recipe is enough for a hearty meal on its own, or you can have a couple as part of a more varied brunch. They're also great cold.
---
Have you been working out? You're looking good!
If you liked the article why not share the love:
Loading Twitter messages...