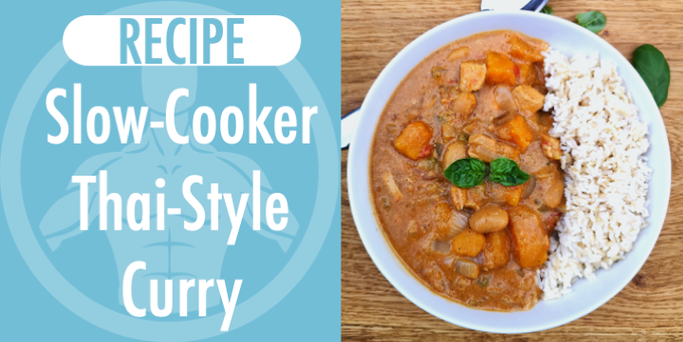 I have often said that I should have been raised in either Thailand or India, such is my love for the cuisine of each country. Ever since I discovered Thai curry paste I have experimented with different ways of making lower-calorie versions of my favourite curries and this is one of the results that I've adapted for cooking in bulk.
Before we go any further, let's get one thing straight. This is not an authentic Thai curry and most Thai people would scratch their heads if I ever served them this. No, this is dish that has all the flavours that we recognise as being Thai food (lemongrass, galangal, coconut etc.) but put together with a very different (and easy) method.
This is actually my favourite bulk-cooked meal. This recipe makes 8 portions, each providing plenty of protein, loads of vegetables, oodles of flavour and not too many calories. It's filling enough to have on its own or you can serve it with rice, flat-breads, potatoes or whatever floats your boat.
The great thing about this recipe is that you really just need to throw all the ingredients (well, all but one) into the slow cooker. Then you just set it to low and come back 6-8 hours later... it really couldn't be easier and it never fails (please don't test that statement).
If you portion it out, it'll last up to a week in the fridge or you can freeze it for later. 
Macros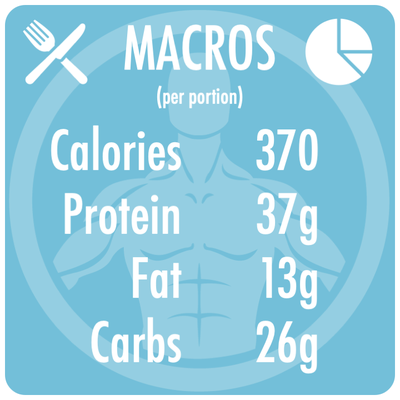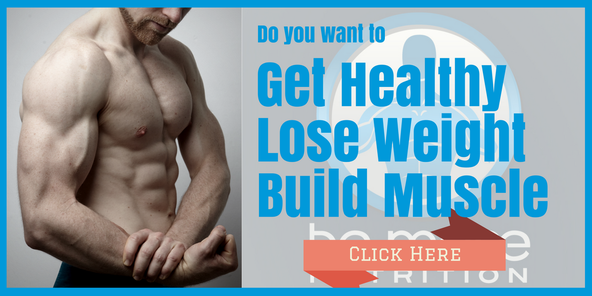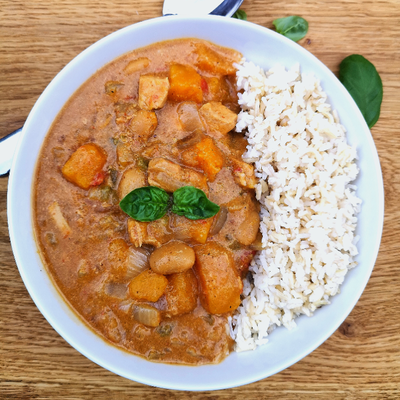 Ingredients (makes 8 portions)
Have you tried one of the recipes? 
Share and show the results
800g-1kg meat of choice (lean beef, lean pork, chicken, turkey)
2 cans reduced-fat coconut milk
1 can chopped tomatoes
1 can butter beans
1 butternut squash (about 800g-1kg of flesh)
6 medium onions
4 stalks celery
2 heaped tbsp (150g) yellow curry paste
2 tbsp (30g) corn or tapioca starch
Recipe
Add the coconut milk, chopped tomatoes and curry paste to the slow-cooker and mix well.

Chop the meat/poultry into bite size pieces and add to the slow-cooker.

Drain and rinse the beans and add to the slow-cooker

Chop all the vegetables: the squash can be in bitesize chunks, the onion finely chopped and the celery minced. Add to the slow-cooker.

Stir to combine. Put the lid on the slow cooker, set to low and allow to cook for 6 hours (ish).

To thicken the sauce at the end: take about half a cup of the cooking liquid from the slow-cooker and put it in a small bowl. Add the corn/tapioca starch and mix to a thick paste then add some more cooking liquid to thin it out. Add this back to the slow-cooker and mix well.
*If you add the starch directly to the slow-cooker, there's a good chance it will all clump up. This is why you do this out of the slow-cooker first.
Leave to cook for 30 minutes more and that's it.
Divide the contents into food containers to store in the fridge or freezer.
Serve as is or with your carb of choice. It goes great with brown sticky rice.
The recipe is very flexible: you can use almost any meat or vegetarian protein that you like, add in different vegetables, use different beans, use different types of curry paste (red, green etc) and it will still turn out delicious.
---
Have you been working out? You're looking good!
If you liked the article why not share the love:
Loading Twitter messages...